2022 Songwriter Winners Announced
Congratulations to Matt Lundquist from Bloomington, IN our JHMF22 Songwriter's Challenge winner with his song Hartford's Bend. Below you will find a detailed breakdown of the top ten winners of the 2022 Songwriter's Challenge. The competition was fierce, and our esteemed panel of judges narrowed down the selections to the following ten folks. Be sure to catch the Songwriter's Showcase where you can hear the top three winners perform their tunes! The Songwriter's Showcase will take place on Friday at noon on the Hartford Main Stage.
1: Matt Lundquist - Hartford's Bend - Bloomington, IN
2: Bradley Johnson - Memories of You - Kirkwood, MO
3: Georgia Evans - Grinnin' Sound - Brookeville, OH
4: Eric Nassau - First Trip to Hartford - Columbus, OH
5: Steve VanDeWater - Every Last One and a Couple More - Noblesville, IN
6: Thomas Poley - A Hartford Salute - Tuscon, AZ
7: Marion Halliday - I Would Not Be Here - Louisville, KY
8: Robert Thatcher - As Good As Life Can Be - Signal Mountain, TN
9: David Easterling - Come Back Home - Oak Ridge, TN
10: Cass Cwik - New Anthems (Ode to John) - Chicago, IL
Applications Are Closed for the John Hartford Songwriters Challenge
The 2022 John Hartford Memorial Festival Songwriters Challenge is no longer accepting entries. The deadline for entries was midnight, March 31, 2022 or when we reached 40 compliant entries.  Held at the Lawrence County Recreational Park in Springville, IN from June 1-4, the 2022 John Hartford Memorial Festival is a genre busting, family friendly event honoring the life and legacy of the late John Hartford, one of America's most beloved and ground-breaking musicians.
Now a word from our esteemed former songwriter wrangler Ernie Hill "Folks, I'd like to introduce someone special to me, specifically Sam Herrin from Nashville IN. Sam is the new curator of the John Hartford Songwriters Challenge. I've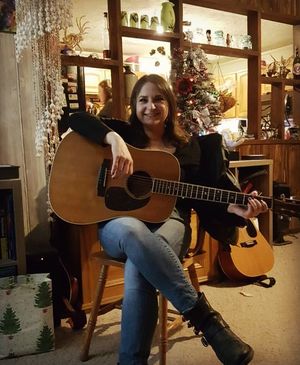 since retired from the working world, but don't fret, I'm still hanging around in the background with the JHMF team." For those just learning about this Songwriters Challenge, Ernie created the challenge and launched it back in 2013 after our founder, the late John Hotze, asked Ernie to write a song about the festival. The John Hartford Songwriters Challenge is just that. It challenges songwriters to write a song using the name John Hartford and/or at least one of thirty Hartford original song titles provided by our new curator, Sam Herrin. Speaking of Sam, she is a fine songwriter and performer and a founding member of the Whipstitch Sallies, a festival favorite. We welcome Sam with open arms and please, you welcome her too.
Win tickets to "The Most Laid Back Festival in America", prize money, a signed poster by festival artist Jon Griffin and perform in our Songwriters Showcase on the Hartford Stage, the big one! We consider all compliant entrants for booking and have a string of past winners and finalists that have been booked.
Our 1st place winner gets $250 and two full festival passes. Our top three winners will be offered the chance to perform in our Songwriters Challenge on the Hartford Stage. The top 10 will also be added to our digital playlist showcase.
2022 Songwriters Challenge Prizes:
1st Place: $250 and other prizes to be announced.
2nd Place: $150 and other prizes to be announced.
3rd Place: $100 and other prizes to be announced.
  Congrats to Beth Nelson, our 2020 champ!
Well, come hail or high water and social distancing, we still had our JHMF Songwriter's Challenge! Of course, it's all held online, which is the next best thing to being there. We were sad to discontinue the Challenge for 2021, but we are making plans to get 2022 underway at the new location. 
We are proud to announce our JHMF10 winner, Beth Nelson from Olathe, KS with her song, "Gone To Hartford". Congratulations Beth! Beth won $200 and two full fest passes and will perform in our Songwriter's Challenge on the "Hartford Stage", this fall. Scroll on down to read an interview with our 2020 champ, Beth Nelson.
The John Hartford Memorial Festival expresses our deepest gratitude to each songwriter who has entered our songwriting contests. Your craft is special to us and your music is enriching and enlightening. John Hartford would be honored to know how his music has inspired you and us. After 8 years of contests, we now have 80 John Hartford inspired songs on our playlist and archives, so please give 'em all a listen and read our past winner's profiles.
2020 Results
1ST PLACE--Gone to Hartford- Beth Nelson, Olathe KS.
2ND PLACE--Magic Music in the Air- Mike Ichniowski, Ft. Smith AR
3RD PLACE--Rock Candy Mountain Calling- Jonas Friddle, Chicago IL
4TH PLACE--Back Home Again- John Bowyer and Jayme Hood, Nashville, IN
5TH PLACE--This River Life I Know- By Robert Thatcher and Tom Brown, Signal Mt. TN
6TH PLACE--Dancin in the Dirt- Matthew Marcelle, Indianapolis, IN
7TH PLACE--The River Before Me - Jeff Trippe, Yarmouth, ME
8TH PLACE-- Take Me Away- John Gilmore, Noblesville, IN
9TH PLACE-- Life On the River- Scot Randle, St. Louis, MO
10TH PLACE-- My Friend John- Mark Heinrich, Carlsbad, NM
0:00/2:52

0:00/1:46

0:00/3:13

0:00/3:48

0:00/2:20

0:00/2:58

0:00/3:33

0:00/1:59

0:00/3:48

0:00/3:08
Beth, tell me about yourself, what you'd like the readers to know, like age, family, upbringing, you tell me…
I'm a mom/teacher/musician in Olathe, KS where I was born and raised.  I'll be 43 years old by the time this festival rolls around in October.  I've got a devastatingly handsome husband who started making music himself about ten years ago and a beautiful, smart, and super cool teenage daughter who can basically sing and play anything she sets her mind to.   I also claim three absolutely exceptional step-children who live in Ohio most of the time.  
If I were not sheltering at home right now, I'd be preparing a pops concert with a hundred or so middle school choir students.  Our finale this year was going to be "Singin' In the Rain" complete with umbrella choreography!  Dang Corona!  Anyway, most of my time during the school year is consumed with teaching kids through choir - which is a pretty darn cool job.  I have a Master's Degree in choral conducting and I can really nerd out about choral singing.  When I'm not working at school, I'm pretty much always working on something.  I like to practice yoga, cook meals for the family, sew quilts, and read all kinds of books but my very favorite thing to do is making music.  I would spend all my time playing banjo, fiddle, guitar or piano if I could:)
How long have you been performing?
I've been performing my whole life.  I've always loved to sing and taught myself piano at home as a kid.  My first experiences performing were through school and community choirs and musical theater productions and I did quite a bit of that growing up.  I got a guitar in high school but didn't play much until college.  I am lucky to have grown up with a bunch of talented musical friends and who formed a band called "The Gulley Jumpers" and started playing around the K-State area.  We went to the Walnut Valley Festival in Winfield, KS and heard The Freight Hoppers play and pretty much decided we wanted to be like them.  That band has morphed into the "Konza Swamp Band" -- the group I play with now around the KC area.  Our name comes from the Konza Prairie in Manhattan, KS and we play mostly covers of classic country and bluegrass, old time string band and a few originals.  I took several years off from performing when my daughter was younger and the band graciously allowed me back in the last couple years.   These guys really know how to pound it and I love playing with them.  
Do you come from a musical family? 
Both my parents are musical.  I learned how to sing harmony from listening to my mom and my dad sits on his porch and plays the harmonica every day.  Both my grandmothers played piano and I had a great-aunt that studied music at a conservatory but beyond that I don't know of anyone else with formal music training. 
Do you have other contest awards?
For songwriting?  No.  I did win a Rock, Paper, Scissors competition once, though.  
How do you feel when you don't win a contest?
If I'm entering a contest, I prefer to be the winner, however, if I'm not (which is most of the time) I kind of enjoy that little reminder that I've got a lot to learn.  
What would you tell other contestants who do not win? 
Try and fail but don't fail to try.  
What is your opinion about our contest, that we require a songwriter to use the components we list?
I appreciate having some structure to guide creativity.  Otherwise, the possibilities are endless and I can end up with a big mess.  John Hartford is such a fascinating character he offers an endless supply of inspiration for songs.  
Did you begin playing by ear?  
This is an interesting question.  I taught myself to play piano by a combination of listening and looking at the notes on the page.  
Do you encourage or discourage students to play by ear?
I encourage students to do both.  If a person can read music really well but can't really listen, they won't make good music.  I tell my students that listening is their most important skill as a musician.  Alternatively, a person that can listen really well can be a phenomenal musician but there will be times they'll be at a disadvantage if they can't read a score.  Music is an aural phenomenon but it sure is handy to have it written down sometimes!  Again, I'm kind of a music nerd but I think it is really, really cool that humans have devised a way to write down SOUNDS on a piece of paper.  

How do you approach songwriting? It's perfectly normal for a songwriter to have tunes and lyrics "drift through". Do you follow a formula or is it different each time, like melody first, next time, lyric line first?
I do have pretty much constant tunes running through my mind.  If I'm lucky enough to have a new melody or lyrical idea pop in my mind I have to record it on my iphone immediately or it can get lost in the rest of my day.  A lot of times that happens while I'm driving or walking or riding a bike or I'll sometimes even wake up in the middle of the night with a melody.   My best songs happen when both melody and lyric arrive together.  Text is harder for me.  I wish I were more of a poet but the songs I write are pretty simple so it's something I'm working on. The first textual ideas come from something that's clever or inspiring in some way.  For a new song I'll usually start with a "hook" -- it can be either melodic or lyrical.   Then I create the song around that little kernel of an idea.   I think a lot about the sound of the words -- like the vowels and consonants -- and how they fit into the song.  Once I figure out what the song will be about and have a skeletal idea of how to relate it, I just try to fill in the blanks.  If I don't write a kind of first draft in about two days, I am likely to move on...
Tell me about "Gone to Hartford", how it came to be, and also your 2019 entry "Steamboat Blow Your Whistle High". 
Last March I had never even heard of the JHMF contest until I saw Ernie Hill say something about it on facebook.  I was just starting my spring break and it seemed like a fun challenge.  The song from 2019, "Steamboat Blow Your Whistle High", is kind of about how John Hartford has affected my life.  Literally the first conversation I ever had with my husband included John Hartford and all our kids now have Aeroplane memorized so it seemed like there would be enough there to write a song.   I figured that was my John Hartford song and I wouldn't find inspiration to write another.  Then, this year, a bandmate said that phrase "Gone to Hartford" with regard to a proposed gig during the festival time (we turned down the gig FYI;) and it inspired me.  Again, I had about a week before the deadline and thought I'd give it a try.  It seems I work best with a deadline or a challenge in most parts of my life.  
Can you remember ever not having a melody drift through your head? 
No.  Sometimes it is annoying. 
What do you do when you've finished a song, play it back and realize the tune already exists?
Ugh.  Frustrating!  It does happen though.  After all, there are only twelve notes in the Western scale that we've all been using for the past thousand or so years.  There is bound to be some overlap.  If I find I am repeating myself or someone else I will often just trash the song and move on to something else.  I might revisit the idea further down the road when I have some distance from it.  Otherwise, I have trouble getting the original idea out of my head.  
How do you feel about songwriting workshops and other creativity workshops.
Recently I've been involved in a secret songwriting club that suggests a topic or theme and with a deadline of two weeks to create a song.  It's been a great challenge and helps demonstrate that I don't need to just wait around for inspiration to write a song but instead, with diligence, I can create a song on any topic.  I love the idea of songwriting or creativity workshops but I've never had the opportunity to attend one myself.  
Do you teach music or conduct workshops?
I teach choral music in a classroom every day.  I also give private lessons every once in a while. 
 What goes through your mind right before you step onto a stage?
I do get nervous.  I read a tip somewhere that one should try to flip that around into being excited.  They suggested that "excited" is the same feeling as "nervous" but without the negative.  That makes a lot of sense to me and I've had some success with it.    
What instruments do you play, which is your favorite? 
I am somewhat proficient on the piano, guitar, and clawhammer banjo.  I'm working on the fiddle.  My favorite is whichever I'm playing at the time. 
What can we expect to hear at a Beth Nelson concert?  
Ha!  You would hear a bunch of middle school kids singing their hearts out -- sometimes with umbrella choreography.  Otherwise, I'm pretty self-conscious about performing by myself…:)
I certainly identify with your love for Old Time. As a youngster, growing into teenhood and adulthood, what music hit you deepest, and how did you settle on Old Time? 
I have always loved harmony singing -- Simon and Garfunkel were a great discovery as a teenager.   I was introduced to Old Time in college and was instantly captivated.  I had a friend who basically put me through a boot camp of chopping chords on the guitar (Thanks, Schmidty).  I love the history of it and the humanity it represents when people play this music together and pass it on to others.  I appreciate the little complexities that can arise from a seemingly "simple" form of music and the teamwork it requires to make it really work.  It also easily lends itself to harmony singing.  
Do you have recordings? Seems like I remember a collaboration with Betse Ellis. Do you have plans to record before JHMF10 in October?
Konza Swamp Band has some old recordings and tentative plans to make a new one soon.  I don't have any professional recordings of just my own stuff.  Honestly, I just always feel like my songs are kind of silly and have a hard time imagining that anyone else would be interested in hearing them.   I'm kicking around the idea of recording myself during this time of staying at home on a little six-track recorder I have here but I could imagine that getting together with other KC musicians to collaborate on songs would be really helpful in fleshing them out.   
Yes!  I love working with Betse Ellis!   We played an event together last summer and had an absolute blast.  We billed ourselves as "She Oughta Been A Lady".  I hope to play lots more with her in the future.   She is a fantastic musician and a good friend.   
What is your performance schedule like? 
Konza Swamp is pretty low-key.  We all have families and jobs and stuff so we play on the weekends at a few select places around KC.  Otherwise, I seem to end up with little side gigs here and there once a month or so.  
To the best of your memory, what was your first memory of John Hartford and his music? 
I was visiting a friend in Oklahoma in college.  He pulled out "Good Old Electric Washing Machine" on vinyl.  Then I remember seeing the cover of Aeroplane and that sealed the deal.  
How has the music of John Hartford inspired you?  
His music is endlessly creative.  I just love how he crafts a storyline and the harmonic palette he uses to convey his ideas.   He dabbled in Old Time as well so that may have been part of what drew me to that style of music.  
How many JHMF fests have you attended, and how do you feel about the fest.
Last year was my first.  I knew when we pulled up and saw the beauty of the location and the golf carts zooming around that we were in a special place.  We ended up camping with a really wonderful group of people and can't wait to go back and do it all over again.   In the words of my daughter, Rachel, "It was groovy".  
Has winning the contest had any effect on your music career?
My music career is mostly working with middle school singers so it will probably just make them think I'm even cooler than I was before. 
What advice do you have for beginning songwriters and musicians? 
Something that helps me with songwriting is to try to recognize that every human has a different experience on earth.  If you don't tell your story then no one will.  For general music-making, I think Bill Monroe said "practice every time you get a chance".   That's probably pretty good advice. 
Do you have any advice for old folks like me?
Keep rockin'.