"Play it like it was wrote, boys," Bill Monroe said."We never verbalized about an arrangement and the only requirement for a song to be in the band repertoire was that one person could perform it all the way through." John Hartford said. John who? The Father of Newgrass. The inadvertent shepherd of the Roots music movement, the bassy-voiced, dancing fiddler/banjo picking songwriter who wrote the classic "Gentle On My Mind", who put the American in Americana, the Free in Freedom when it came to music. John who?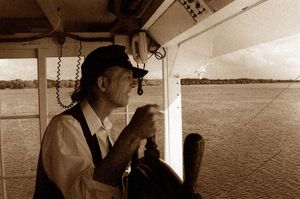 In the beginning, before the Golden Age of radio and recorded music, there were formal rules for performers of formal music. The legacies of the great composers were taught along with the music. Those wishing to be recognized had to be schooled in the classics. Stuffy. Of course, to be "successful" one had to have the approval of the aristocracy. Still, there were those who played music the way they wanted to, around campfires, at peasant dances and such. Rebels, rule breakers. With the dawning of radio and record, a handful of entrepreneurs decided that music could be lucrative and from there, a new "aristocracy" was born...the Recording Industry, which gave way to formulas for hits, interpreted what should be a "hit", morphed into a controlled thing that dictates what most of the public hears. Not overnight, but through a succession of years of sales records and a definition of what the "public wants." Thank the Muse that "beginnings" happen every second. 
John Hartford was many things in life, from steamboat captain, fiddle and banjo player, to hit songwriter, Grammy-winning artist, author, folklorist and father.
Born John Cowan Harford on Dec. 30, 1937, in New York City, John  grew up in St. Louis, Mo., with a love for two things: the Mississippi River and music, especially old-time music and bluegrass. Moreover, when it came to the latter, he brought new life to his genre of choice, influencing the likes of critically acclaimed musicians Bela Fleck, Emmylou Harris, Sam Bush of New Grass Revival and Tim O'Brien, among many. 
"In many ways, John Hartford is the Mark Twain of traditional music," Mick Buck, the Country Music Hall of Fame's Museum's curator of collections, has said. "He was a beloved American figure whose influence went far beyond his commercial success. He brought literacy, humor and inventiveness to his music and an eclectic sense of adventure to his life. He was a true artist in every sense of the word."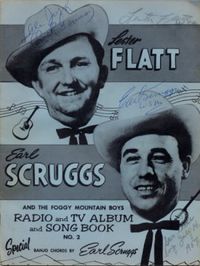 Hartford—who added the "t" to his given surname upon the request of the late producer-guitar legend Chet Atkins—credited the music of banjo player Earl Scruggs, a bluegrass legend, as changing his life forever. After hearing Scruggs' music, a young Hartford was instantly attracted to traditional string music set about becoming proficient at not only banjo but also fiddle and guitar. In his teen years, Hartford began performing professionally in bluegrass groups in central Missouri and Illinois, before moving to Nashville in 1965, where he served as an overnight disc jockey at country-radio station WSIX while striving to establish his music career. 
The following lyrics come and go in my mind as they have since this John Hartford song was a mainstream radio hit, recorded by Glen Campbell, in 1967.
"It's knowing that your door is always open and your path is free to walk That makes me tend to leave my sleeping bag rolled up and stashed behind your couch And it's knowing I'm not shackled by forgotten words and bonds or the ink stains that have dried upon some lines That keeps you on the back roads by the rivers of my memory, that keeps you ever gentle on my mind"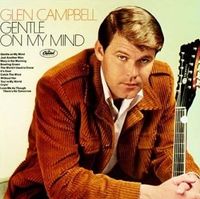 "Gentle On My Mind" is one of the most played songs in the history of recorded music. The recent version recorded by Russell Moore and IIIrd Tyme Out was nominated for IBMA Song of the Year for 2013. It's been recorded over four hundred times. It won two Grammy awards in the same year, 1968. It was the theme song for the "Glen Campbell Good Time Hour" TV show and it introduced the world to the talent of this young St. Louis songwriter, banjo-picking fiddler, John Hartford. A couple of years following his move to Music City, Hartford's songs found their way to Chuck Glaser of the Glaser Brothers, who was reportedly taken by their introspection.
 '
As a result, Hartford landed a deal with RCA in 1967, where his pop-country standard, "Gentle on My Mind", became a four-time Grammy-winning pop and country hit. (Although Hartford recorded the song first, it was Glenn Campbell's version that gained wide circulation and commercial radio exposure.)
The now-classic track, which Hartford was inspired to write after seeing the movie Dr. Zhivago, was eventually recorded by hundreds of artists, including Elvis Presley, Aretha Franklin and Dean Martin. But for Hartford, the song's far-reaching commercial appeal equated into personal and financial freedom; thus, affording him the opportunity to explore his musical artistry and other pursuits of the heart, including earning his steamboat pilot's license 
With his career as a songwriter cemented, Hartford went to California in 1968, where played on the Byrds' classic album,
Sweethearts of the Rodeo
, and worked as a scriptwriter/performer on CBS's Smothers Brothers Comedy Hour and the Glen Campbell Goodtime Hour. He devoted two prime-time seasons to Hollywood before returning to Nashville in 1971 to record what became his groundbreaking acoustic album,
Aereo-Plain
.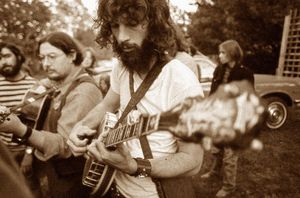 Produced by David Bromberg, the 16-song record merged traditional bluegrass music with freedom-inspired music of the early '70s. The album's experimental "jam band" approach is credited with challenging the boundaries of acoustic music, while simultaneously forging what is now considered the "new-grass" philosophy of bluegrass. 
Grammy and IBMA award-winning recording artist Mike Compton has achieved a worldwide reputation as one of the modern masters of bluegrass mandolin. He has recorded with Bill Monroe's Bluegrass Boys, and made music with John Hartford, recording a half-dozen records and touring extensively with him until John's death in 2001. "Working for John for a half dozen years wasn't always easy, but it was a growing experience for me that has shaped a lot of what I do now. I think John's passion for sound and lyrics has been felt for decades, and has altered the path of string band music," Compton continued. "He's sort of the granddaddy of this Jamgrass scene. There's an awful lot of his repertoire in the bedrock of the scene, from before the
Aereo-Plain
album to the present. John would be thrilled to know this festival is going on. Shoot, I reckon he does," Compton concluded
In 1976, Hartford's lifelong love of the Mississippi River led him to record an album of river-oriented songs, Mark Twang. Inspired by working summers as pilot on the Julia Belle Swain steamboat, it was the first album by Hartford sans a band and featured him switching between banjo, fiddle and guitar, while tapping his feet percussively on plywood. The album earned a Grammy for Best Ethnic or Traditional Recording.
From here, Hartford dedicated the rest of his career into further researching old-time music and its history, including working on a biography about Ed Haley, a West Virginia fiddler, and cutting a number of Haley's songs. According to his biography, it was during this time that Hartford—who continued to write and record from his home in Madison, Tenn., overlooking the Cumberland River—also "would revisit different ensemble configurations, recording and touring with his son, Jamie, and with various incarnations of the John Hartford String Band."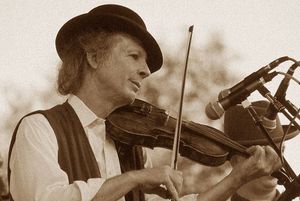 A descendant of Patrick Henry and cousin of Tennessee Williams, Hartford, in what would be the final year of his life, received a Grammy for his contributions to the soundtrack of the O' Brother Where Art Thou hit movie. Along with Alison Krauss, Ralph Stanley and other artists from that platinum-selling album, he performed as part of Down from the Mountain, a documentary and recording of their concert at Nashville's historic Ryman Auditorium.
A mentor for a generation of bluegrass players, Hartford died June 4, 2001, at 63 after a two-decade battle with non-Hodgkin's lymphoma. 
"I do not believe John Hartford set out to carve a legacy. I believe John Hartford was one of the rare ones. The one upon whom fortune smiled, although he was taken away much too early in life. John Hartford started something by doing things his way. His music consisted of deep serious lyrics that would burst into whimsy or vice versa. Just when you started to take him seriously, he would break into some falsetto just to have fun, or just when you thought he was all about having fun, he'd make you sit up straight and bring tears or deep contemplation with a heartfelt original. John Hartford was a tall, deep voiced man who did not fear the falsetto. He had fun. He danced while he sang and fiddled. He entertained completely. John Hartford was a true trail blazer. John Hartford was free. John Hartford's legacy is important. His influence spiderwebbed out from the seminal, game-changing,
Aero-plain
album, to all of the facets of Americana-Roots music. To quote John Hartford in the intro to his collection of old time fiddle tunes, Hamilton Ironworks, "That's what this, is about." (Ernie Hill, -John Hartford-Preserving the Legacy of the Father of Newgrass).
Click Here to read a wonderful article about John Hartford written by Ernie Hill and published by No Depression.