Camping Reservation Information Will Be Available Soon
Lawrence County Recreational Park 99 Moore Ln. Springville Indiana 47462
Camping & Vehicle Policies
Our new venue is going to allow us many more camping options.
We are including free primitive tent camping with every ticket.
Other camping options will include; Car camping, RV sites with electric and water, RV sites with electric only and primitive RV sites with no utilities.
We will be allowing quiet inverter type generators in RV areas that do not have hookups.
We have a free parking lot near the entrance to the grounds with shuttles running regularly to the camping and stage areas.
All vehicles inside of the park must have either an RV or Car camping pass.
We ask that any passenger vehicle inside of the park remain in your campsite and limit any trips that require driving thru the park.
RV sites in Hippy Valley must enter and exit by way of a long steep gravel hill and are not suitable for large RV's.
RV Park sites 1 to 70 have 30 or 50 amp options with standard RV outlets.
All electric only sites are 20 amp and may require up to a 100' power cord and adapter to standard 20 amp outlet.
Your vehicle will require an RV pass to enter the park if it matches any of the following descriptions; is towing a travel trailer, is over 22' long, has a holding tank for waste water. The park has dump stations for RVs.
Have questions that need to be answered? Check out our FAQ page by clicking here.
Not staying on site? Lawrence County is loaded with other great places to stay including many comfortable hotels in the Bedford and Bloomington area. Check back for information on our official festival hotel.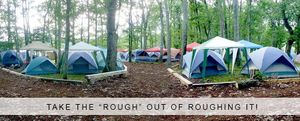 Dancin' Dave's offers first-class camping accommodations. Whether you're traveling from the opposite coast, across the pond, or just across town, you can have a full festival experience without the hassle of having to pack everything needed for a comfortable stay. We do all the work, including arriving early to secure a premium location just for our guests. Just show up, stay for the party and leave the tear-down to us. Camping has never been so easy!!