Calling All Closet Pickers, This Is For You!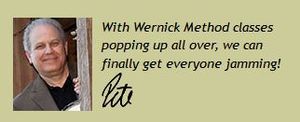 Pete ("Dr. Banjo") Wernick offers jam camps nationwide. Pete's inventive teaching method focuses on the student's desire to play music in a social setting. The emphasis is to address the general lack of this type of learning situation, and these camps have been launching beginning jammers everywhere!

You will learn how to be in a bluegrass jam session, fitting in at your own ability level. You will be jamming the first morning!
Learn: Understanding, low-pressure, experienced teaching by Jeff Burke. Hands-on learning in large and small groups. How to play lead, fake solos, sing harmony. Group and individualized instruction on backup techniques. Ground rules and etiquette; learn many bluegrass standards.
In over 100 camps, we've taught hundreds to jam. You can too! All bluegrass instruments, all skill levels welcome.
 
Meet Your Instructor : Jeff Burke
Jeff Burke has been a professional musician for over 20 years, specializing in mandolin, guitar, and banjo. As half of the duo Jeff & Vida, he has performed thousands of shows around the US and Europe. Jeff's down-to-earth teaching and positive approach to playing and learning music have endeared him to students in classes and workshops far and wide, including at both The Country Music Hall of Fame and the Station Inn in Nashville.
Thursday, June 2nd: 11:00am - 1:00pm
Friday, June 3rd: 11:00am-1:00pm
Saturday, June 4th:  11:00am-1:00pm
$90 in advance or $100 on site or $35 per single session (on site)
(festival admission also required)
All participants are required to RSVP. To make reservations and for more information click here.
Do you qualify? It's easier than you may think!
If you play guitar, mandolin, banjo, fiddle, bass, or dobro... you can be part of a bluegrass jam.Only requirements: You must be able to tune your instrument (electronic tuning devices welcome) and change smoothly between G, C, D, and A. (Fiddles and basses need to know which notes work with which chords). The sooner you sign up, the sooner you'll receive the student study materials for the camp.