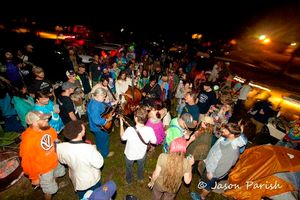 We have earned the title, "The Most Laid Back Festival in America" for a reason. This is the one festival where your entire family and pets, can gather in peace and ease. We have a good vibe feeling to go with our great music so here are a few basic guidelines we can all do that will ensure everyone has a great time.
Share the air-No Smoking in Concert Area- Smoking is a privilege, not a right. Fresh air is a right, so please, everyone, respect the air space of your non-smoking friends. Please step away from seated areas prior to lighting up.
Speaking of air space- for the safety and privacy of our campers, the use of drones during JHMF is strictly prohibited except by our authorized photographers. 
Please, no glass allowed in the concert areas. This is for your safety.
Festival chair policy and etiquette - We will allow you to leave your chairs in place overnight. In exchange we ask that you allow others to sit in your chairs if they are not occupied. We you return they will gratefully allow you to have your chairs back.
Recycle- We will be recycling aluminum cans only. Hey, rather than walk around or step over that trash on the ground, why not pick it up and put it in the can! Green and Clean leads to feeling really good! Yep, cigarette butts are litter too.
Pets are to be kept on a leash at all times. Well behaved and controlled dogs are welcome, you may be asked to remove your pet if they become disruptive. Please pick up after your pet so nobody steps in it!
Alcoholic Beverages- Consumption by anyone under the age of 21 is strictly prohibited. Over indulgence will not be tolerated and could result in removal from the property.
Illegal Substances are not allowed anywhere on the festival grounds.
Golf carts are not to be operated by anyone under age 16.
Operating a golf cart or any other vehicle while under the influence or in a wreckless manner on festival grounds is strictly prohibited and could result in removal from the property.

Headlights must be used on golf carts from dusk till dawn.