Congratulations Ida Clare! 2017 John Hartford Band Contest Winners
Two years ago, John Hartford Memorial Festival Organizers, John Hotze and Tom Burkhart decided to have a one shot fall festival over at Dogwood Park in Muhlenburg County, Kentucky. The highlight was a band contest. They had a successful turnout, but decided to concentrate their energy and effort into the main gig, the John Hartford Memorial Festival, held each Memorial Day week at the Bill Monroe Music and Camping Park in Bean Blossom, IN. This year was the first official John Hartford Festival Band contest. Numerous bands submitted songs, video and bios online and 13 bands were selected to compete on site with the promise of big cash and a performance contract for the 2018 festival. The contest, organized and managed by Tom Burkhart and Scott Nelson, was a huge success with the winning scores going to Louisville's own Ida Clare. Ida Clare took home $1000 and a unique handmade trophy made by Tom Burkhart along with a Hartford Stage performance contract for 2018! 2nd place-  Tangleweed, from Chicago, IL.  3rd place- Big Sadie, also from the Chicago area. 4th place-Nashville's Johnny Campbell and the Bluegrass Drifters.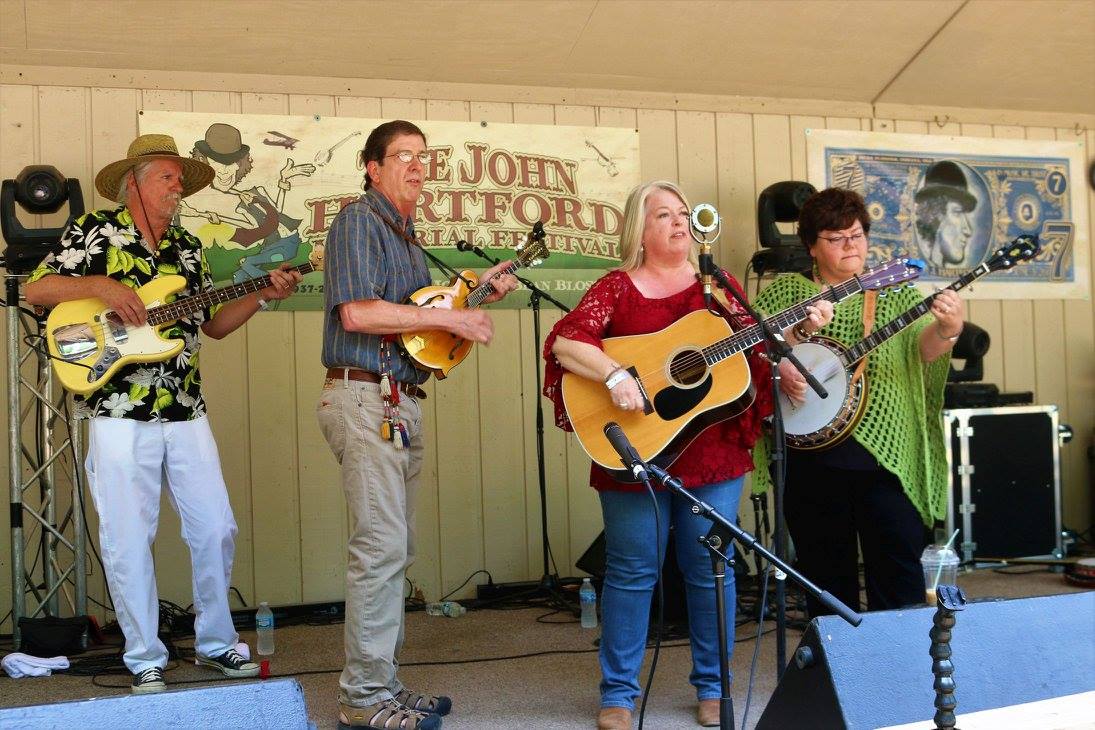 Ida Clare is an experienced performing group of pickers and songwriters who know how to entertain naturally, and have a great time doing it. Ida Clare plays an eclectic mix of Bluegrass, Country, Old-time and original material. Ida Clare is mandolin player and song writer Jim Wheatley, powerhouse vocalist Lea Cockrell, bass man Mark Miller, and banjo player Robin Thixton. Nearly everyone is a vocalist and multi-instrumentalist and the depth of both stage and studio experience is obvious. The band has an intuitive understanding of performance dynamics. When you hear Ida Clare you will have a smile on your face and your toes will be tapping. The body of music the band performs is wide ranging but the back-bone is always Bluegrass. 
 I pursued and interviewed the charming and super talented banjo picker for Ida Clare, Robin Thixton. Here's what I found out about this eclectic and talented band of Bluegrass pros!
Where does the name Ida Clare come from? Clever.   -   Our former band name was Total Strangers, and when you google that name you will find about 10 different bands going around with that same name.  We decided to change it, but we couldn't come up with something clever that wasn't already taken, or fit us.  My husband loves plays on words, and so for two months or more we would be driving and he'd just spit out something.  I would Google it and sure enough, there would already be a band by that name.  One day he said "Ida Claire".  Well, I was too afraid to look it up because I loved it instantly.  I searched online and couldn't find a band by that name but we did find a little tea room in Texas called "Ida Claire", so we changed the spelling to "Ida Clare" and here we are.
Are you all songwriters?  Jim, our mando player, is our main writer. He has collaborated some with Lea, our guitar player who gives him words and melodies to work from sometimes.  I have written but not with these guys yet.
Do you collaborate?  Jim and Lea do.  My brain is too busy these days to add to the mix but I hope we can soon.
Was this your first JHMF?  Yes, my first one.  But I've been to the Bean Blossom bluegrass several times before.
How did it feel to play on the stage that Bill Monroe built? Had you performed on this stage before?  It was the first time for my band mates and they were in awe.  I have played there years ago when I played with Petticoat Junction.  Was an honor then, is an honor now.  We are super excited to come back and play.
Your impression of our fest:  Extremely well run.  Fabulous bathroom facility for the bands!!  Great crowd.  Great food vendors (BBQ, Beer, and Pretzels top notch)
How about the rest of the band, what feedback did you get from them?  Same sentiments.  Great vibe from the crowd. The contest was run with the precision of a surgeon's scalpel!
 What was your contest set list?    All original songs.  First set on Friday:  "You're Not There",  "Don't Let Me Go",  "No Time Like the Present"     Second Set on Saturday:  "Road Of Tomorrow" "Take A Chance On You" "Hold On".
I asked Robin what she would do to improve our festival. She said, "Honestly...just keep doing what you're doing.  Keep the band lineup fresh.  It was very well run.  My family used to put on a Bluegrass festival on our farm and I know how much work goes into it.  You give people good bathrooms, good food, good music...they will be happy."
Robin nailed it. There is a recording coming in the future. You can read more and follow the Ida Clare concert schedule at idaclareband.com and Facebook.
Ernie Hill-wordsofernest.com
ernpick@gmail.com